Reactors
With specially designed mixer. Heating and precise melt temperature control. All parts in contact with the monomer made of stainless steel. Equipped with weight monitoring systems, inert gas systems, dosing and mixing system set, flow control system, filling lances, actuators, valves, safety equipment etc...
Polymerization Oven
Heated electrically, with forced air circulation. Uniform temperature distribution in the oven. Precise PID temperature control. With safety equipment, Suitable for casting Nylon rods, tubes, sheets, cylinders, custom cast parts and near net shapes up to 1,200 mm long, up to 1,250 mm outer diameter. Ovens suitable for casting larger parts on request.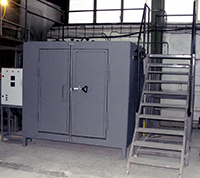 Plate Processing Unit
Suitable for casting Nylon sheets of nominal 6 mm minimum thickness. Practically no upper limit on thickness. Maximum dimensions of sheets about 1,300x2,200mm. The unit has its own heating, no oven is necessary. With safety equipment. Unit with larger width and/or length capacity on request.
Rotational Casting Machine
The reactive melt is filled into a mold rotating about a single axis. This machine is used to produce Cast Nylon tubes and symmetrical pieces. With safety equipment. Dimensions of Cast Nylon tubes: Length: max. 1,250mm/Outer diameter: max. Ø 300mm/Inner diameter: min. Ø 50mm/ Wall thickness: minimum 10mm
OTHER MACHINERY AND EQUIPMENT
Thermoregulation Units, Raw Materials Storage and Preparation Equipment, Inert Gas system, Dosing and Mixing System Set, Mixing Head, Mixers, Hoses, Lances, Flow control systems, Weight Monitoring System, Actuators, Catalyst, activator and additives storage system, Annealing Machinery & Equipment, Molds, Bulk Melt Tank, Auxiliary ovens, Laboratory Reaction Test Machine and Test equipment, Laboratory Equipment and Ovens, Replacement Parts, Platform, etc..